Founded: 1918

Grades: K–5

Student Enrollment: 5–10

Colors: Blue and Gold

Mascot: Rams
Breakfast:
7:45 a.m.–8:10 a.m.
Playground Supervision:
8:00 a.m.
First Bell:
8:10 a.m.
Attendance Bell:
8:15 a.m.
Morning Recess:
10:00 a.m.–10:15 a.m.
Lunch/Recess:
11:30 a.m.–12:15 p.m.
Afternoon Recess:
2:00 p.m.–2:15 p.m.
Afternoon Dismissal:
3:15 p.m.
Friday Afternoon Dismissal:
1:35 p.m.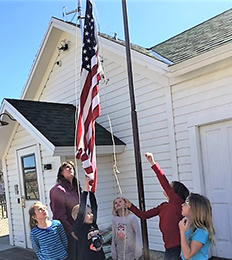 At Valley Elementary, we care about each student and are dedicated to providing an education that allows all of our students to succeed. The school was established in 1918 to serve students living in the beautiful and picturesque South Fork Valley. Valley School is a K–5 elementary with a current population of five students. One teacher and a paraprofessional serve the mixed grade and combined curriculum classroom on a daily basis. Additional specialists from Cody Schools serve the Valley students on a weekly basis. The school also has a part-time custodian who helps us to maintain a safe, clean, and orderly environment.
All students learn at high levels through work that is purposefully designed to be relevant and engaging within a supportive environment.
Students achieve excellence with the skills, knowledge, and strength of character to succeed in a dynamic world.
Working closely with all Park County School District elementary schools, our curriculum and instruction includes: reading, writing, mathematics, science, and social studies. Students also enjoy art, physical education, music, and media/library instruction provided on a weekly basis via shared teachers from various in-town schools.
Reading: We utilize a balanced literacy approach through the use of grade and ability level books and Houghton Mifflin's Journeys basal.
Writing: Our curriculum is centered upon the writing workshop approach guided by the frameworks of the Six Traits of Writing model.
Mathematics: We emphasize number sense, math facts, and problem-solving skills as formalized in the Houghton Mifflin's Expressions series.
We wisely supplement our curriculum on an ongoing basis and utilize technology to enhance learning. Periodically, students participate in learning adventures together with Wapiti and/or Glenn Livingston Elementary schools.
Our school improvement goals focus upon reading, writing, and mathematics. Although we maintain admirable test scores, we persistently seek ways in which we can improve. We continue the endless pursuit of exemplar by participating in weekly Professional Learning Communities (PLCs) and working closely with the instructional coaches from all Park County District elementary schools.
Our goals:
All K–5 students will be proficient readers

All students will exhibit positive behaviors in school.

All students K–5 will be proficient in mathematics.
OPPORTUNITIES FOR LEARNING
We proudly offer a challenging academic curriculum supplemented with a variety of extracurricular programs and services that enhance the student learning experience.
At Valley School, we are extremely fortunate to have a highly involved and very supportive parent group. Thanks to your numerous hours of volunteer service, we can ensure all students meet their learning goals, maximize their potential, and provide amazing project-based learning opportunities. We are grateful for your long and storied history of supporting and supplementing the needs specific to Valley School.